ORTHODONTICS FOR ADOLESCENT AND ADULTS
Orthodontics for Adolescent and Adults
Orthodontic treatment with fixed braces is possible at any age after getting into full permanent dentition. The most common age is 10-12 years old. The age of the patient only pertains how long the treatment takes. If an adult patient has skeletal malocclusion, orthodontic treatment can be applied in conjunction with orthognathic surgery. Today, the misalignments of teeth are typically corrected with braces behind the teeth (hidden braces), invisible aesthetic aligners or transparent clear brackets.
Orthodontic Treatment Simulator
A 3D scan of the patient's oral cavity using a special device called the Orthodontic Treatment Simulator before starting treatment makes it possible to show how the teeth would look after treatment. This simulator offers a view of the anticipated result of the treatment by creating a "smile design" in as little as five minutes.
---
Treatment Methods
Invisible Hidden Braces (Lingual Braces)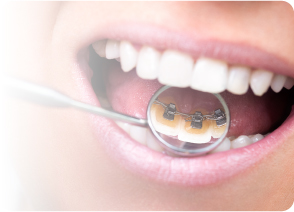 The lingual braces corrects the position of teeth with custom made brackets attached to the back side (tongue side) of teeth. This technique maintains the natural look of the patient while teeth are getting straighten without anyone noticing. In addition, this technique does not cause speech impairment, and discomfort.
---
Wireless Orthodontics (Invisalign)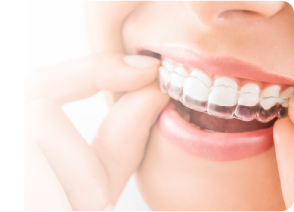 Custom made transparent aligners, can be used to correct crowding and misalignment of teeth. With the help of 3D intraoral scanner 3D models of the teeth can be obtained and aligners can be produced. Aligners are not fixed to the teeth, can be removed easily by the patient during eating, and cleaning of teeth. The so-called Invisalign is widely used by adult and young patients all around the world.

---
Clear Braces (Porcelain Brackets)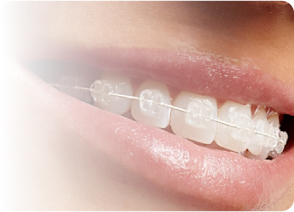 Porcelain brackets with their transparent appearance were attached to the teeth to correct the alignment of teeth. This technique, is preferred particularly by young teenagers and adult patients which allows an aesthetic solution.
---
Metal Braces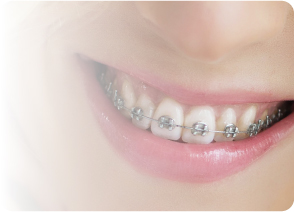 Metal brackets are attachments made of stainless steel and titanium, and placed on teeth to correct their alignment. This method is generally preferred by children and based on the patient's color preference at every appointment during the adjustment of wire to the brackets colored rubber elastics can be used, create a charming look for the patient.